The first week of July is behind us and it held one of the most anticipated events of the year – the International Film Festival in Karlovy Vary, Czech Republic. No doubt that the red carpet is de facto a fashion catwalk. Ladies suits, beautiful cuts, high-quality dresses – this leaves us hoping, if only we could experience the atmosphere of being carried away by the flashes of cameras. Well, at least once!
Our silk dresses have the power to make you become a fashion icon any time you wish. Were you amazed by Jany Plodková´s minimalist look this year? Check out our elegant Malin Matsdotter silk dress. Theater or a business party? You will look absolutely charming in them. On the other hand, with a slightly unconventional, but very memorable outfit, Emma Smetana reminded us that the world of fashion is highly creative. She went to the KVIFF opening ceremony in a daring glittering pantsuit https://www.kafe.cz/galerie/emma-smetana-jordan-haj-kviff.html?photo=3. Want to shine like Emma? Choose a non-traditional cut that our Yvonne trouser suit definitely has. Complement it with a bold bodysuit and then just enjoy the looks of everyone around you. This piece will make you stand out from the crowd. You not only look and feel irresistible, but we kind of suspect that everyone will remember you too. You can also opt for the classic Mademoiselle Lenormand cut, which can be tailored in an equally glittery or bold style. The choice is yours!
Trousers in the center of attention.
Another woman who stepped out of the box with her big gown and chose something slightly different than other ladies was Jitka Schneiderová. No surprise her flowing trousers and a beautiful top with a train were often in the sights of photographers. If you also love quality and classy clothes, bet on the Catherine Monvoisin model. Then you can, just like Jitka, take your silk wide trousers to an event and become the center of attention. But their use does not end there, thanks to their light and airy material, they will be your companion from spring to autumn in combination with a simple top, blouse, denim jacket or a blazer.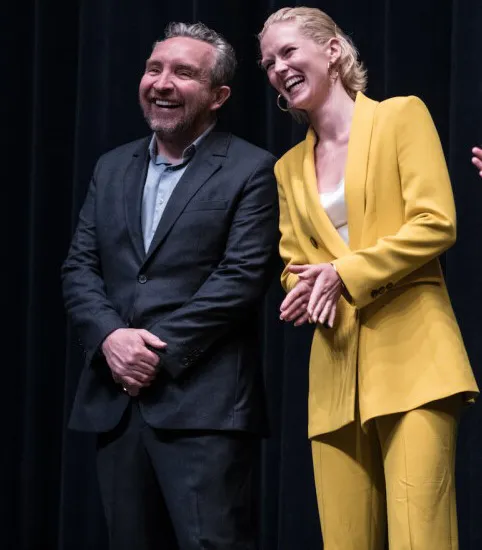 Actress Rose McEven. Source: KVIFF gallery
However, this film festival had much more to offer. Elle Beauty Lounge at Grandhotel Pupp was full of beautiful ladies pants and suits in amazing color variations. It gives us a clear signal that women's pantsuits are an indispensable piece in every woman's wardrobe. We will also be seeing them at all events more often as equal fashion rivals of all evening dresses. Get inspired by the stars and treat yourself to a piece in which you will shine!
With love,
Your BeWitch